Donate to Groton Open Space Association, Inc.
Thank you for supporting GOSA's efforts to protect open space, restore local habitat, and improve the Long Island Sound watershed. By donating to GOSA you will become a member which has these benefits.
All donations to GOSA, a 501(c)(3) tax-exempt organization, in cash or in kind, are tax-deductible to the extent permissible by law.
There are many ways you can use to donate – online, by mail, or with other options.  Please chose the one most convenient to you.
Payment Method:

Regular mail
Print this form, fill in the information, then send with your check to:
PO Box 9187, Groton CT 06340
Credit or debit card
Fill out the form below to complete your donation. Credit card payments are processed via Square, which is a secure third-party payment processor that encrypts the data collected on our website for your protection. For more information: Square's Secure Data Encryption.
Other Ways to Donate to GOSA
Looking for another way to help contribute to GOSA's land conservation efforts? See if your employer will match the funds you are donating to help GOSA keep up their land conservation efforts.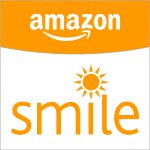 Do you shop on Amazon frequently? Consider shopping with Amazon Smile and selecting Groton Open Space Association, Inc. as your charitable organization. A portion of your purchase amount will be donated to GOSA.