The Board of Directors consists of not less than five and not more than twelve persons elected by the membership at the annual meeting. The Board of Directors generally meets monthly but no fewer than ten times a year.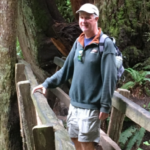 Dan O'Connell, President
Board Member since 2019
Former Director
MA Education, Cambridge College (MASS)
BS Education (Mathematics),
Central Connecticut State University
Danny grew up in Bristol, CT. He learned to love the outdoors through camping with family, Boy Scouts, and many adventures in the woods and on the water. Those experiences created an understanding and appreciation of nature and our responsibility to care and protect the land and wildlife.
Danny spent most of his adult life in Enfield, CT raising three children with his wife and best friend Lynn. During his 27 years as a math teacher and track/soccer coach at Fermi high school, vacations mostly involved going to mountains to hike, beaches for swimming and relaxation, and water to sail on.
After retiring in 2017, Danny and Lynn moved to Noank to enjoy life near the water. They have found the community to be welcoming and are delighted to be a part of it. A desire to volunteer in the area merged with their love of outdoors when they connected with GOSA. In the last year, they have spent many hours maintaining GOSA properties as part of an awesome group of fun, hard-working volunteers. Taking on the coordination of stewardship volunteers and work parties has been rewarding and being part of the Board will be as well.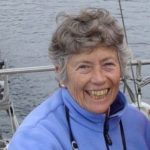 Sidney Van Zandt, Vice President
Founder of GOSA in 1967
Vice President since 2009
Graduate of Choate-Rosemary Hall and Colby Sawyer College
Sidney spent her youth exploring the woodlands and wetlands of the Mianus River Gorge Preserve in Bedford, N.Y., the first property purchased by the Nature Conservancy in 1954.  After college, she worked at First Investors Corporation on Wall St., in NY. She left that job in 1955 to marry Sandy Van Zandt, a GI, and helped put him through Middlebury College. She and Sandy, and son, Doug, moved to Noank in 1961 and formed Van Zandt Sails in 1962. Plans to develop Haley Farm into a duplex housing complex in 1963 instigated her involvement in the battle to "Save the Haley Farm" and was one of the founders of the Groton Open Space Association in 1967; she became its first president. In 1970 Haley Farm was saved as a state park after raising the equivalent of $375,000 (in 2017 dollars) as the town's portion of the purchase with the help of the CT Forest and Park Association and many supporters. That same year, she and UConn Avery Point professor David McKain formed the Environmental Education Committee (EEC) which planned and sponsored the first Earth Day and recycling programs in Groton. They also published an environmental teaching guide for every elementary school teacher in the Groton school system. Since then, she has been involved with GOSA's purchases of the 75-acre Merritt Family Forest in 2008, the 63-acre Sheep Farm in 2010, the 91-acre Candlewood Ridge off Lambtown Road in 2013, the 305-acre Avery Farm straddling the Groton-Ledyard border in 2015, and the State's 201-acre Candlewood Hill Wildlife Management Area in 2017.
Over the years, Sidney has served the open space movement in numerous capacities. In 1972 she was appointed co-chairperson of the Bluff Point Advisory Council that was tasked by the Ct. Legislature to come up with finding the "highest and best use" of Bluff Point (saved in 1974). She has served on the boards of the Connecticut Forest and Park Association (1969), the Connecticut DEEP's Coastal Area Management Program (1976), and the Eight-Town Mashantucket Land Trust (now called Avalonia Land Conservancy)(1976), as well as the Governor's Council of Environmental Quality (CEQ) in 1977. All have benefited from her passionate work to preserve and protect open space and the Groton watershed. In 1981 she resigned from her many positions to join her husband on an open-space adventure of another kind. They built a 39′ steel sailing vessel in Virginia and sailed it 95,000 miles.  After three transatlantic passages, a circumnavigation visiting 56 countries, and 14 years on board, they returned to Noank in 1996. Sidney resumed her activities on the GOSA board in 2003 as a director, became a member of the Drinking Water Quality Management Plan (DWQMP) in 2006 and the Shellfish Taskforce in 2007, was elected vice-president of the GOSA board in 2009, and in 2011 was reelected to the board of the Connecticut Forest & Park Association as an honorary director.
Sidney received numerous awards in 2014. On March 15, the Connecticut Land Conservation Council awarded the 2014 "Katchen Coley Award for Excellence in Conservation" to Sidney for her decades of outstanding service to the conservation movement. That same day, United States Senator Richard Blumenthal strode to the podium and awarded Sidney with a "Certificate of Special Recognition." One week later, on her 80th birthday, Connecticut General Assembly members Senator Andrew Maynard and Representative Elissa Wright presented Sidney with an "Official Citation." Again, on Thursday, June 19 in the Old Judiciary Room at the Capitol, Sidney received a Women Inspiring Conservation Award for her "outstanding leadership in the environmental conservation movement since 1967.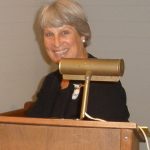 Joan Smith, Vice President
Board Member since 2000
President 2008-2022
Vice President since 2022
Master of Science with a specialty in Nursing Administration at Georgetown
Bachelor of Science in Nursing at Cornell
Bachelor of Arts in French at Connecticut College for Women
Joan grew up roaming in the fields and forest of her maternal grandfather's farm in West Boylston, Mass., where she learned to experience and appreciate nature. Family outings included hiking, skiing, fishing, swimming, kayaking and camping in Cape Cod, Maine, New Hampshire, Vermont and Canada. Her paternal grandmother, president of the Thoreau and Concord Historic Societies, led a successful effort to save Walden Pond, Joan's first glimpse at successful grassroots environmental activism. Future mentors included three professors at Connecticut College: Dr. William Niering and Dr. Richard Goodwin, founders of the Nature Conservancy, and Dr. Sally Taylor who continues to be active with Connecticut Forest & Park Association. For GOSA, Joan has authored four successful state grant applications, totaling more than $1,600,000 for land purchase. Joan also authored many of GOSA's letters of intervention and position statements seeking prudent and feasible alternatives to potential environmentally harmful development projects. Joan's main focus now is to build up a board of strong directors and volunteers who will provide sound governance, land management, environmental advocacy and educational programs well into the future.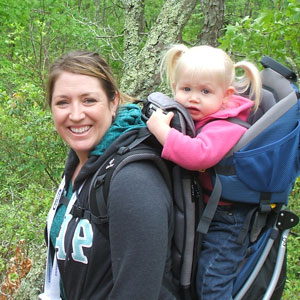 Wendy Spader, Director
Board Member since 2017
M.B.A. from Rensselaer Polytechnic Institute
B.S. in Biotechnology from University of New Haven
A.S. in Nuclear Engineering from Three Rivers Community-Technical College
Wendy was born in Groton, CT at the U.S. Submarine Base, daughter of a retired U.S. Navy Submarine Senior Chief. She is married to Erich Spader, a former U.S. Army National Guard Crew Chief, with whom she shares two young children and three stepchildren. Having spent her life living in Mystic, she has a vested interest in saving and preserving the land and waters in and around Southeastern CT. As a child, she enjoyed playing and exploring the outdoors more than anything with her older sister and brother, specifically forests in the Mystic and Groton areas. She spent summers playing in the fields and streams of her maternal grandparents' 28-acre farm in central PA. Spending time outdoors and experiencing the peacefulness and beauty of our world has led to a lifelong appreciation and love for our environment, which Wendy shares with her family. As a family, the Spaders along with Wendy's sister's and brother's families go on an annual camping trip to Acadia National Park in ME or Berkshires in MA, where they enjoy hiking, fishing, swimming, kayaking, and canoeing.
Since 2004, Wendy works at Pfizer, Inc. starting as an Analytical Chemist and now working as a Sr. Manager of Training and Learning for the Pharmaceutical Sciences organization. Prior to her career in pharmaceuticals, she worked in nuclear power as a Nuclear Systems and Control Room Operator at CT Yankee Nuclear Power Company on the CT River until its decommission in 2001. In this field, she also had an opportunity to work temporarily at the Environmental Lab at Millstone Power Plant in Waterford, CT monitoring and studying the effects of nuclear plant discharge on the environment and marine life in the Niantic Bay area.
Wendy first began volunteering with GOSA in 2013 through Pfizer community outreach, and then continued supporting GOSA as an independent volunteer in support of their mission to advocate for land, water, and wildlife. She is passionate about the preservation and maintenance of our environment for current and future generations to value and experience. Wendy actively supports GOSA fundraising event planning and communications efforts.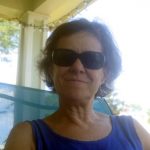 Robin Thomas, Director
Board Member since 2020
Robin Thomas is a lifelong environmentalist who grew up hiking, swimming, and sailing throughout the local area.  She was an advertising and graphic design major with a BFA from the Maryland Institute College of Art in Baltimore, MD, and later received her library tech certification from Three River Community College.  She was the program supervisor at Mystic Seaport Museum, designing and implementing events for museum members.  Robin also worked as an assistant librarian in the Groton Public Schools until the position was eliminated in 2013.  She is now the office manager in the Groton Public Schools Maintenance Department and still counts hiking as her favorite outdoor activity. Robin was active in saving the former Noank School property as open space and believes that GOSA's hard work of conservation and preservation help make Groton a vital, healthy community.
She lives in Noank with her blacksmith husband, Clint Wright and together they raised two children. They now enjoy sharing their love of the outdoors with their grandchildren.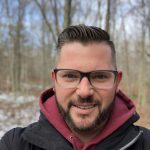 Michael J. Maurice, Director
Board Member since 2022
B.S. of Business Administration from UCONN
Michael grew up in Preston, CT where a love of nature and wildlife developed at an early age. Having parents who were both teachers allowed his family to spend their summer months boating, fishing and beaching in Little Narragansett Sound, Napatree and Sandy Point. After college, Michael pursued a career in eDiscovery in NYC but knew he always wanted to return to the beautiful woods and ocean of southeastern CT. He now works out of his home office in Groton as a healthcare analyst for CVS Health. Michael and his dog Lexi love roaming the many local trails maintained and operated by GOSA. After joining the Board in 2021 Michael hopes to build on GOSA's legacy of conservation, environmental preservation and promoting the importance of open space for the residents of Groton and southeastern CT. He is proud to be an advocate for the very land he fell in love with all those years ago.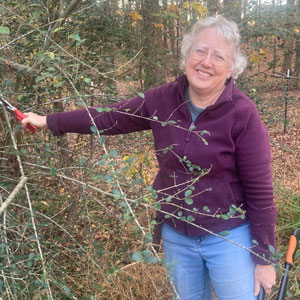 Betsy Chittenden, Director
Board Member since 2022
Betsy, born in Washington DC, spent most of her life living in its northern Virginia suburbs. There she pursued a 30+ year career with the National Park Service working in a wide variety of fields including natural resource management, historic preservation, archeology, archives and records management, land use policies, and park administration. Betsy holds a B.S. Landscape Architecture from the University of Virginia and M.S. Historic Preservation from the University of Vermont. She and her husband Dan Sponn, an architect with the Department of State, have renovated several houses and raised two children.
A long-time master gardener, Betsy is now pursuing a Master Woodlands Manager certification through the University of Connecticut. After many vacations in New England, Betsy and Dan purchased their home in Mystic in 2011 and finally arrived in Connecticut as fulltime residents in 2020 after retirement. Why Connecticut? The rocks, the water, the history, the climate, the traffic (lack of!), a strong interest in exploring New England, and in large part, the clear passion of the residents for their forests and parks, as evidenced by the enormous amounts of conserved land. When not in New England, you'll find Betsy and Dan on I-95 or Amtrak heading south to visit three perfect grandchildren in Virginia and North Carolina.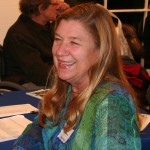 Marie Goe Olson, Director
Board Member 2013-2022
B.S. in Nursing from University of Rhode Island
Marie was born in the small town of Scotia, Calif., in the heart of the California redwoods and grew up in rural Dutchess County, New York, enjoying nature and the outdoors. She also spent many summers working in Rhode Island and enjoying the ocean and sandy beaches. After graduating from college, she worked in various positions as a registered nurse at Westerly Hospital, R.I., as a visiting nurse for Kent County, R.I., and also for Norwich State Hospital, in Connecticut.
In 1982, Marie married a naval officer and moved to Newport News, Va., and then Charleston, S.C. where she worked for the Low Country Red Cross. She then took time off to start a family. Her son was born in Fort Ord, Ca., and her daughter in Fort Belvoir, Va. Marie, her husband, and children moved to Ledyard in 1990 where she became an active volunteer. She held positions on the Ledyard Library Friends, the Ledyard Public Health Commission, the Bill Library Association, the Ledyard schools, and the Ledyard Congregational Church. Returning to the workforce in 1995, Marie worked at various healthcare facilities in Southeast Ct. as a clinical liaison.
In July of 2013, Marie chose to leave the workforce to pursue her passion for nature and the outdoors. She hopes future generations will experience the wonders of our natural surroundings and the freedom of open space.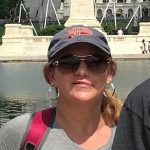 Emily Ray, Director
Board Member 2019-2022
BS Exercise Physiology – California State University Fullerton
A small business owner in Groton, Emily was born in California to a family of active outdoor enthusiasts and grew up camping, backpacking, sailing and enjoying winter activities throughout the beauty of the western United States.
As an adult in Northern California, Emily was an active participant with local and regional Sierra Club and Surf Rider Foundation chapters, focusing on trail maintenance and coastal clean up issues.  This was also where she met her NY native husband Steve.  In 2000 they decided to relocate their young family to the Noank area in order to raise their kids in a smaller coastal community.
Emily was first introduced to GOSA when her youngest child was participating in a scouting award project to create bird habitats for one of the GOSA properties.  She has since become an active member of the Activities and Events Committee.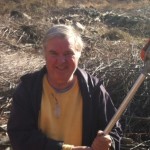 Jim Anderson, Director
Treasurer 2021 – 2022
Board Member 2012 – 2022
Ph.D. in X-Ray Crystallography from University of Connecticut
M.S. in Geology from University of Connecticut
B.S. in Physics from Worcester Polytechnic Institute
Jim returned to western Connecticut at the age of 16, his father bought two acres of woodland in back of their house, a chainsaw was purchased, and he has been chainsawing ever since. He first encountered an invasive species—pachysandra—growing as a ground cover in his parent's yard. Trimmings were dumped in the woods and they resprouted; after 45 years, they have taken over much of the undergrowth of the two acres. Nothing native seemed to want to eat the pachysandra.
After graduate school, Jim started a career in technology finance and ended up at Travelers Insurance in Hartford managing a venture capital program for 10 years. Due to the long commute and the heavy business travel, he didn't pay much attention to the acres behind his neighbor's house bordering Allyn Street in Mystic. After starting his own consulting business and a stint as an adjunct professor at UConn, he noticed that vines had begun to overcome the trees between his deck and Allyn Street, 150 yards away. He approached his neighbor suggesting that he try to preserve the woods by eliminating the bittersweet vines. She agreed, and a five-year winter project (why winter? winter has no ticks and golf in the summer was a higher priority) started in 2005. By 2010, the impenetrable area was completely cleared and he started to get bored.
In May 2011, he attended GOSA's gala and met members of the GOSA team who declared, "We have acres and acres of bittersweet!" The rest is history, much to the regret of bittersweet in Groton.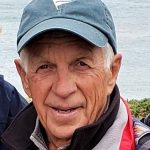 Paul Connor, Director
Board Member 2020 – 2022
I grew up in Mystic & graduated from Colorado College in "66. After college I worked for the family business, Ashawog River Mills, a fabric store. I married Carol Maxwell. Her brother, Wes & I started Mystic Group where we bought, restored & sold 18th & 19th century houses.
In 1973 a company asked us to take over their property in downtown Mystic. We formed Steamboat Wharf Co with John McGee & renovated the Gilbert Building, built the Steamboat Wharf building, the Maxwelton building, the Steamboat Wharf Condos & the Steamboat Inn where we managed all until we sold in 2019.
With Carol we raised 2 children & are lucky to have 5 grandchildren all in CT.
Over the years Carol & I cruised & raced our own boats many 1,000s of miles along the East coast.  We have traveled all over the world hiking & exploring many countries.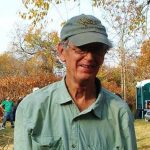 Whitney Adams, Director
Board Member 2009 – 2022
Joint Chemistry-Biology B.A. University of Delaware
M.S. in Natural Sciences, Rensselaer Polytechnic Institute
Whitney has always been fascinated by the plant world.  As he grew up, he marveled at the diversity of plants along the east coast from upstate New York to Florida and, more recently, the rich coastal forests of Connecticut.
His interests led him to pursue a joint B.A. major in chemistry and biology from the University of Delaware, and an M.S. in natural sciences from Rensselaer Polytechnic Institute.  He has worked in biochemical research at the Yale Biology Department, Pfizer Central Research in Groton, Dekalb Genetics in Mystic and Monsanto in Mystic until retirement in 2009.
Whitney began working with GOSA in 2004 and became a board member in 2009. He has done extensive field work on GOSA's properties identifying plants and assembling extensive plant lists. He is also a member of the Connecticut Botanical Society.